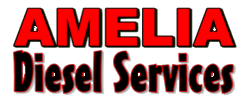 AMELIA DIESEL SERVICES
24/7 Roadside Assistance Patterson
Need Roadside Assistance Service Right Away?
CALL 985-518-1982
For Roadside Assistance to major Truck Repairs in South Louisiana call Amelia Diesel Services 24 Hours a day 7 days a week. Our Road Service trucks can handle all your Truck Repair issues with 24/7 Roadside Assistance for mechanical failures including Tire Repairs to get you back on the road quickly . . We specialize in any kind of semi truck repair and also repair trailers/heavy equipment of all makes and models.
Amelia Diesel Services has over 28 years experience repairing and servicing Cat, Cummins, Detroit, Mercedes, Volvo, Freightliner, Peterbilt, Kenworth, International, Western Star and Mack engines as well as Allison, Fuller along with other drivetrains.
For heavy-duty truck repairs we're your local NAPA Truck Service Center in the Morgan City area that can provide you with a number of benefits, the foremost being integrity. NAPA has a Truck Repair Network of over 900 locations across the United States.
NAPA Truck Service Center owners know that as an owner or driver of a commercial "over the road" vehicle, you are not making money if the truck is not rolling. NAPA Truck Service Center owners provide services you can trust and will work with you and your company to ensure that all repairs/maintenance are performed correctly so that you can get back on the highway as soon as possible.
Amelia Diesel Services in Morgan City operates three HEAVY DUTY ROADSIDE ASSISTANCE UNITS ready to respond to your needs. Our 24 HOUR HEAVY TRUCK ROADSIDE SERVICES AND MOBILE TRUCK REPAIR are standing by to be deployed throughout Southeast Louisiana.
Our Experienced MOBILE Technicians will diagnose your situation and make every attempt possible to make your repairs on the spot to save you time and money.
Not only do we perform Truck Repair but we can repair most anything when it comes to being Diesel powered.  
Our ROADSIDE ASSISTANT division not only repairs Semi Trucks, RVs, Bulldozers, Excavators but Farm Equipment as well.
Our 24/7 Roadside Assistance Road Service area covers all of South Louisiana.
From a Tire Repair to a Major Engine Overhaul, we'll get you back on the road fast!
Out of Fuel Service, On-site Welding, Alternators, Starters, Landing Gear Problems, Trailer Lights, Belts/Hoses, Batteries, Brakes, Brake Chambers, Water pumps, Jump Starts, Airlines/Leaks, Maxi Chambers, Air Governors, Glad-Hands, Fuel Filter, Seals, Bearings, Lights.
Clutch Linkages/ Clutch Problems – Transmissions Stuck in High/Low Gear
We also have new tires, brakes and accessories in stock for your commercial truck and trailer repairs.
Let us help you keep your big rig moving! CALL NOW!
24/7 Hotline 985-518-1982